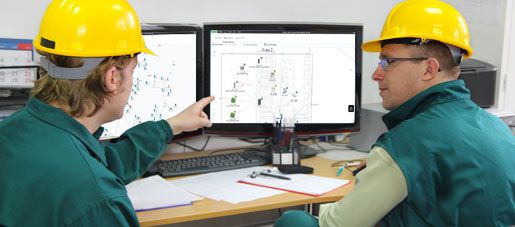 IntraVUE allows organizations in the industrial automation industry to achieve increased visibility into the Ethernet connectivity to proactively detect, diagnose and resolve potential disruptions, while ultimately reducing cost, increasing productivity and ensuring continuous uptime. Read more... Modernizing the Industrial Ethernet Network with Increased Visibility Article

Learn more about how IntraVUE™ can improve uptime and decrease network support costs and response times.
Quick overview on how IntraVUE™ can help speed problem detection and diagnosis with complete views of all devices and connectivity on the industrial network. 
Learn more about how IntraVUE™ can speed detection and diagnosis of Ethernet connectivity failures, saving you money and increasing efficiency.
See how a large grocery retailer identified and resolved connectivity issues at 30+ plants with IntraVUE.
See how the Panduit Professional Services team utilizes IntraVUE™ in network assessments.
Learn more about the need for manufacturing facilities to increase real-time visibility of the industrial network to determine and resolve connectivity issues while increasing time and cost savings. 
Learn more about the 3 best practices for determining what to measure so management and operations can effectively run the entire industrial network.
Ready to subscribe? Check out the list of system requirements and part numbers to build your BOM.
Learn more about how easy it is to manage your industrial network using IntraVUE™.